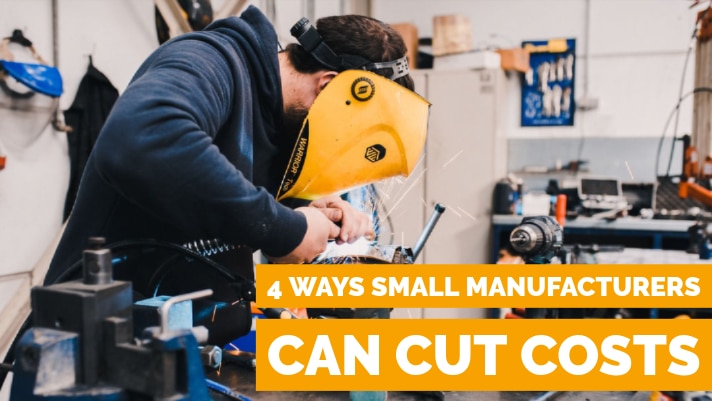 When it comes to money-saving techniques, many manufacturers will hold off on implementing new technology or hiring new people. But when you're a small manufacturer just getting off the ground, it can be difficult to stifle innovation when you need it most.
The good news is that there are other ways small manufacturers can cut costs in the long run without a significant upfront financial investment. Here are four tips you can use to cut costs without stifling change or cutting personnel.
Recycle the materials you use
Some materials during the manufacturing process can't be recycled such as the two liquid components that are mixed and injected into a mold to create molded polyurethane parts. But other materials like scrap and unused material can be 100% recycled.
Not only is recycling your unused materials and scrap eco-friendly and helps to reduce your company's carbon footprint, but it can also save money. Other businesses may pay you for your unused materials and scrap, which can give you some extra cash. This is especially great if you're worried about spending too much on the materials you do use, so you can still make money off what you're not using.
Go digital and use a database
More and more businesses are going digital. In fact, experts estimate that, by 2020, there will be a 4,300% increase in annual data generation.
Going digital offers many benefits including:
Improved security
Improved compliance
Reduction in overheads
Improved customer experience
Increased employee productivity
Improved efficiency
Reduction in supply costs
When you're a small business, time really is money. Going digital can make your workplace more efficient and productive, which can save you time your employees can spend on being more productive. What's more, when you go digital, you don't have to worry about budgeting for paper costs, ink for copiers, and filing fees.
Use invoice factoring to your advantage
Invoice factoring is a type of accounts receivable financing. It converts outstanding invoices that are due within a 90 day period into immediate cash for small businesses.
Invoice factoring can help your small manufacturing company by providing you with immediate cash to achieve your business objectives. You don't have to wait to get paid on your invoices to pay your employees, make business decisions, or make investments.
Reduce your company's energy consumption
Going digital isn't the only way your business can be more eco-friendly and save money. Energy consumption is second only to labor when it comes to your business' manufacturing expenses. But where do you start?
Manufacturing companies can start to reduce energy costs by performing an assessment and making production decisions based on demand. This way, you can save on energy costs without reducing your customers' satisfaction.
It's also important to monitor your production process and operating conditions in real-time. Only by monitoring and managing your processes and conditions can you see how your energy is being expended.
It can be tricky to figure out ways small manufacturers can cut costs without stifling creativity and innovation. But by following the tips above, you can save money and keep your business on track toward success.