There hasn't been much of a change in my debt since my last update.  So, as February draws to a close I thought I would take a break from the normal debt and asset updates and post up a few random thoughts and let you know what I've been up to this month.
Don't Panic
I watched the market fall over 1000 points yesterday and over 800 more today on Coronavirus fears.  This virus seems to be more serious than originally thought, and the impact that it is having on the global economy could be very real.  But this is a time to remember that you are investing for the long term.  Don't start selling your positions in a panic.  History proves that you will regret that decision.  No one likes to see their portfolio lose thousands of dollars of value in a single day, but a few decades from now this will all be a blip on the radar.  A far worse feeling is to watch the markets rally while you are sitting on the sidelines.  Keep saving and investing on a regular and consistent basis, don't follow the herd, and stick to your investing plan.
Another Camp Project Done
On a lighter note, I accomplished some more remodeling and upgrades on our camp this past weekend.  I installed a wood ceiling and accent wall in the kitchen.  I also installed a new light fixture. Here are a few pictures:
Here is the start of the project.  I had to run a few boards on the ceiling joists so the ceiling wood be installed in the correct direction.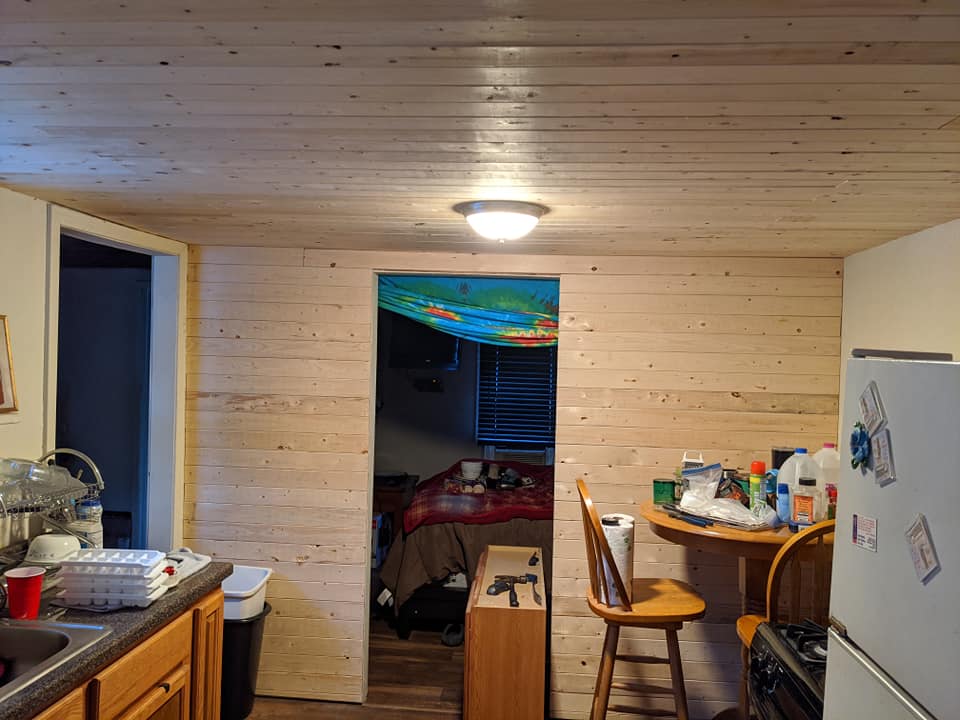 Here is the ceiling and the accent wall completed.  You can also see the new light fixture that I installed.
And here is the finished job.  I put a coat of wood stain on the ceiling.  The entire project took me about a day and cost around $250.  I still have to install new switches and outlets and finally accent lighting above the sink.  That will be getting done hopefully in the next few weeks.
Closing out the Month
I'm looking forward to March and to some warmer weather and longer days.  It will be nice to be outside and start a few Spring projects and spend some time doing outdoor activities.  As I listed a while back I have quite a few projects to take care of at home.  We also have a few vacations and parties planned for Spring and Summer.  Keep hanging in there everyone.  See you in March.
See Also:  
Personal Financial Update, Feb 2020
10 Decorating Tips for Your First Place
Avoid These 5 Mistakes When Choosing a Roofer Contractor