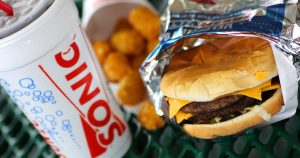 Some of you have probably seen the humorous Sonic commercials on TV and wonder, where are all the Sonics? Well, interestingly enough you should just Google this and you'll see they are all across the country! Once you've got your GPS prepared to dig into one of their savory burgers and thick chocolate shakes, the next step to learn is whether you should tip their workers or not.
Menu
Lets first check out their menu real quick to entice us a little:
Sonic Cheeseburger
Sonic Double Cheeseburger
Super Sonic Bacon Double Cheeseburger
Chicken Wrap
Premium Beef Hot Dog
Footlong Quarter Pound Coney
Jumbo Popcorn Chicken
Classic Chicken Sandwich
Ultimate Chicken Sandwich
Asiago Caesar Chicken Club
Super Crunch Chicken Strip Dinner
Boneless Wings
That is just a glimpse! They also have a breakfast menu, a kid's meal menu, a "frozen zone" with shakes and smoothies, and a massive beverage menu. So, if you have not had the chance to check out a Sonic, I highly suggest it, as it can potentially be life-changing.
Fast Food or Casual Dining?
This may sound silly (tipping or not tipping) but if you've been in a Sonic, you know that this question is a fair one: after all, Sonic appears to be a fast-food restaurant but technically they are serving you, so it may seem like you should tip. Here are some general tipping guidelines.
Tips on Tipping
The fact that there is no option to tip on the receipts is really the kicker, as most places will give you the option to add to your credit card payment. Nowadays, with everyone using credit cards let's ask ourselves how we can handle this situation? Perhaps management at Sonic does not want their service to be treated as one that accepts tips, while the servers much prefer tips. The safest bet sounds like it is to tip because we all know what happens if we have unhappy servers.
There are two obvious answers: 1) don't tip, and 2) bring cash with you. Let's explore option 1. If you don't tip, your servers will eventually be unhappy with you (you'll see this at a bar too, or anywhere.) The one time where you can maybe do this, still don't recommend, is if you never plan on returning, but they say karma is getting worse by the year, so I would throw a tip anywhere you go. Option 2 makes more sense, but as we know, keeping cash can lead to poor habits as well (i.e. spending too much because your pockets are filled with cash. We recommend carrying some cash when you head to Sonic, and we definitely recommend heading to Sonic because the food is amazing!!
Note that this may not sound like a big deal, but it is important to look at the bigger principal here; If you are stingy in areas that won't impact your wallet too much, it will probably hurt you in the long term. After all, if you are smart with your finances, you'll have enough money to pay a tip and still get by, so be generous!
Read Also:
Trimming the Unnecessary Spending: 7 Monthly Costs You Can Do Away with Without Hampering Your Quality of Life
Eating Out Versus Cooking at Home